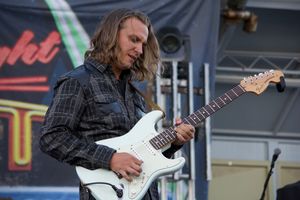 Michael Russell
As a guitarist, singer, and songwriter based out of Northern California and Nashville Tennessee, Michael Russell is a performing and recording artist showcasing original blues, roots rock'n'roll, and hints of alt-country.
Michael Russell's stone cold blues guitar licks, old school rock 'n' roll energy, and timeless songwriting style make him and the Michael Russell Trio a refreshing addition to the modern blues and roots rock scene.
Since Russell's debut album, 'Six Strings Away', was released in Oct. 2017, The Michael Russell Trio has been covering a lot of ground; performing in dozens of towns/cities from Lake Tahoe to San Luis Obispo, the Bay Area to the foothills, and throughout much of the California valley, and part-time in Nashville Tennessee. Russell's latest release from July 2019, 'Electric Blue Dream', has propelled the Trio even further into the scene with opening act positions for bands like The Stones Foxes, Blackfoot Gypsies, The Dip, and many more.
Please subscribe to and/or follow Michael Russell's YouTube channel and social media pages for concert updates, new videos, and new music releases.
Behind The Scenes
In addition to co-producing and co-engineering both his albums'Six Strings Away' and 'Electric Blue Dream' , Russell has also produced many other works and has played extensively as a touring/concert session guitarist. As a working musician, Michael has been part of opening/supporting acts for 
Michael Russell has performed as a session guitarist  for many Northern California and Nashville based acts including Chad Bushnell, Adam Warner, Jabe Burgess, The Lolos (Bass Guitar), Erin Haley & Firefly, and many more. 
Russell co-wrote and produced Dakota Cree's self titled EP in 2015; as well as having arranged and produced the Erin Haley and Firefly self titled EP in 2016. 
The Russell Turner Ward and Big Chico Creek were also groups founded by Michael Russell as a singer, songwriter, and guitarist. In 2016, Michael Russell co-wrote and produced the full length album, 'R.T.W.', by The Russell Turner Ward. Band-mates Seamus Turner and Nate Ward currently perform with the So-Cal psych/surf rock group, Pacific Range; while Dakota Cree band mate Clay Finch is currently touring with the So-Cal duo Mapache.  
Michael Russell Trio
Michael Russell  - Lead Guitar & Lead Vocals
Alternating:
Grayson Katka - Bass Guitar & Vocals
Mike Waltz- Drums/Percussion & Vocals